China's economy grew at its slowest pace since the early 1990s in the second quarter, official figures showed.
In the three months to June, the economy grew 6.2% from a year earlier. The result was in line with forecasts.
China has moved to stimulate its economy this year by boosting spending and delivering tax cuts.
The country is also fighting a trade war with the US which has hurt businesses and weighed on growth.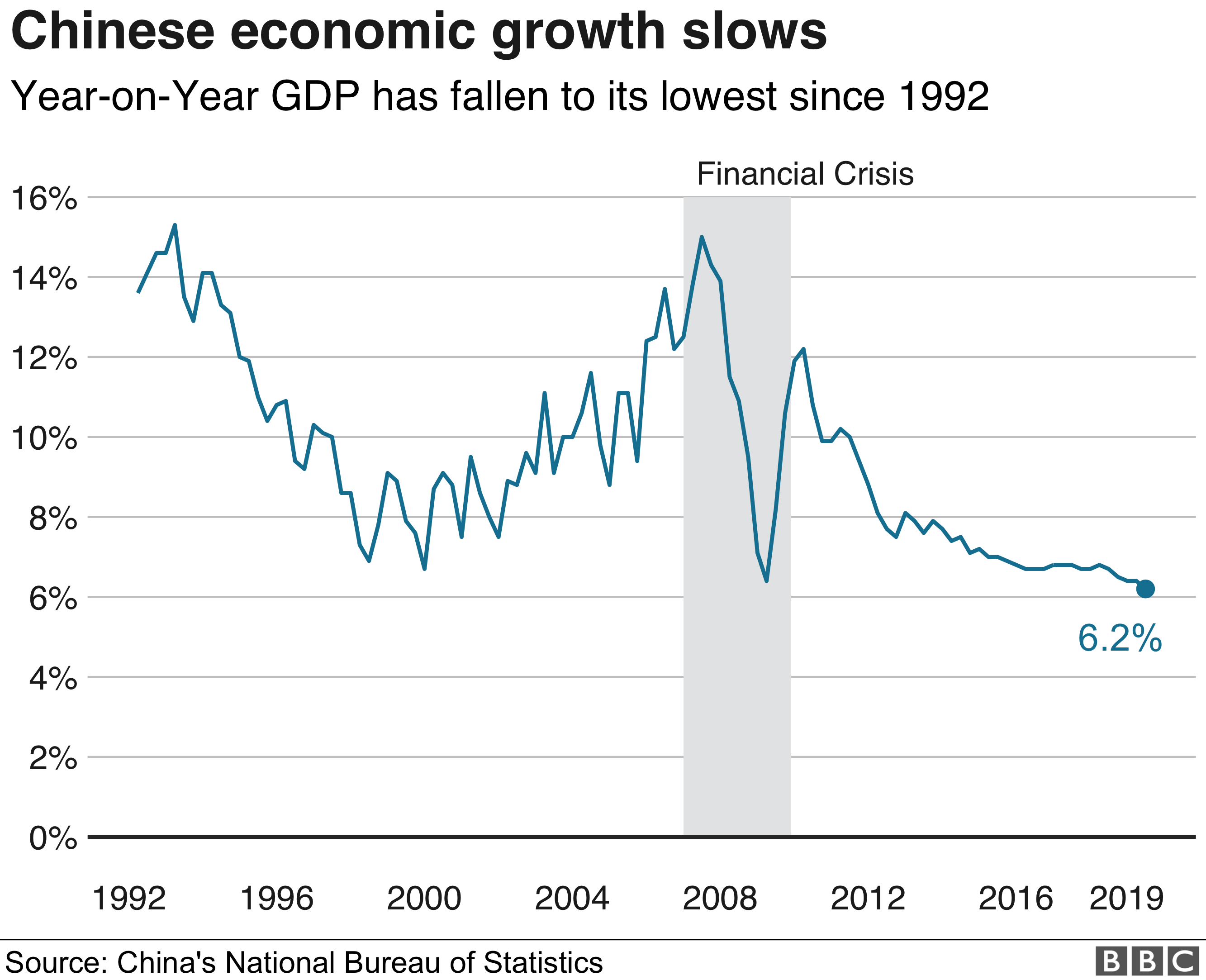 The data released on Monday showed China's economic growth rate slowed from 6.4% in the first three months of the year.
US President Donald Trump tweeted that US trade tariffs were having "a major effect" on the Chinese economy.
Skip Twitter post by @realDonaldTrump
Donald J. Trump✔@realDonaldTrumpChina's 2nd Quarter growth is the slowest it has been in more than 27 years. The United States Tariffs are having a major effect on companies wanting to leave China for non-tariffed countries. Thousands of companies are leaving. This is why China wants to make a deal.... 109K11:43 AM - Jul 15, 2019Twitter Ads info and privacy
27.1K people are talking about thisReport
End of Twitter post by @realDonaldTrump
China's national statistics bureau said the figures pointed to a "complex environment" both at home and abroad.
It said the economy had "performed within the reasonable range" in the first half of 2019, but that it faced "new downward pressure".

Analysis
Andrew Walker, business correspondent
The figures do show some impact from the trade conflict with the US. Growth has probably slowed a little more than it would have done had China been facing a more tranquil international commercial environment. The longer-term picture, though, is one of an economy continuing a reasonably orderly and intended slowdown in growth.
The average growth rate over the three decades to 2010 was 10%. The Chinese leadership - and every economist I have ever heard expressing a view on this - did not regard that as sustainable for the long term. The aim was to see the economy less dependent on investment and exports and an increased role for spending by consumers.
There has been some progress, though the rates of saving and investment remain very high. There are dangers, however, notably the high level of company debt. The authorities encouraged strong credit growth in the aftermath of the global financial crisis. That has helped prevent a more rapid and potentially disruptive slowdown, but at the price of creating additional financial risks.

While China-watchers advise caution with Beijing's official gross domestic product numbers, the data is seen as a useful indicator of the country's growth trajectory.
Other data showed some signs of improvement in the world's second-largest economy.
Industrial production rose 6.3% in June from a year earlier, while retail sales rose 9.8% year-on-year - both above forecasts in Reuters polls.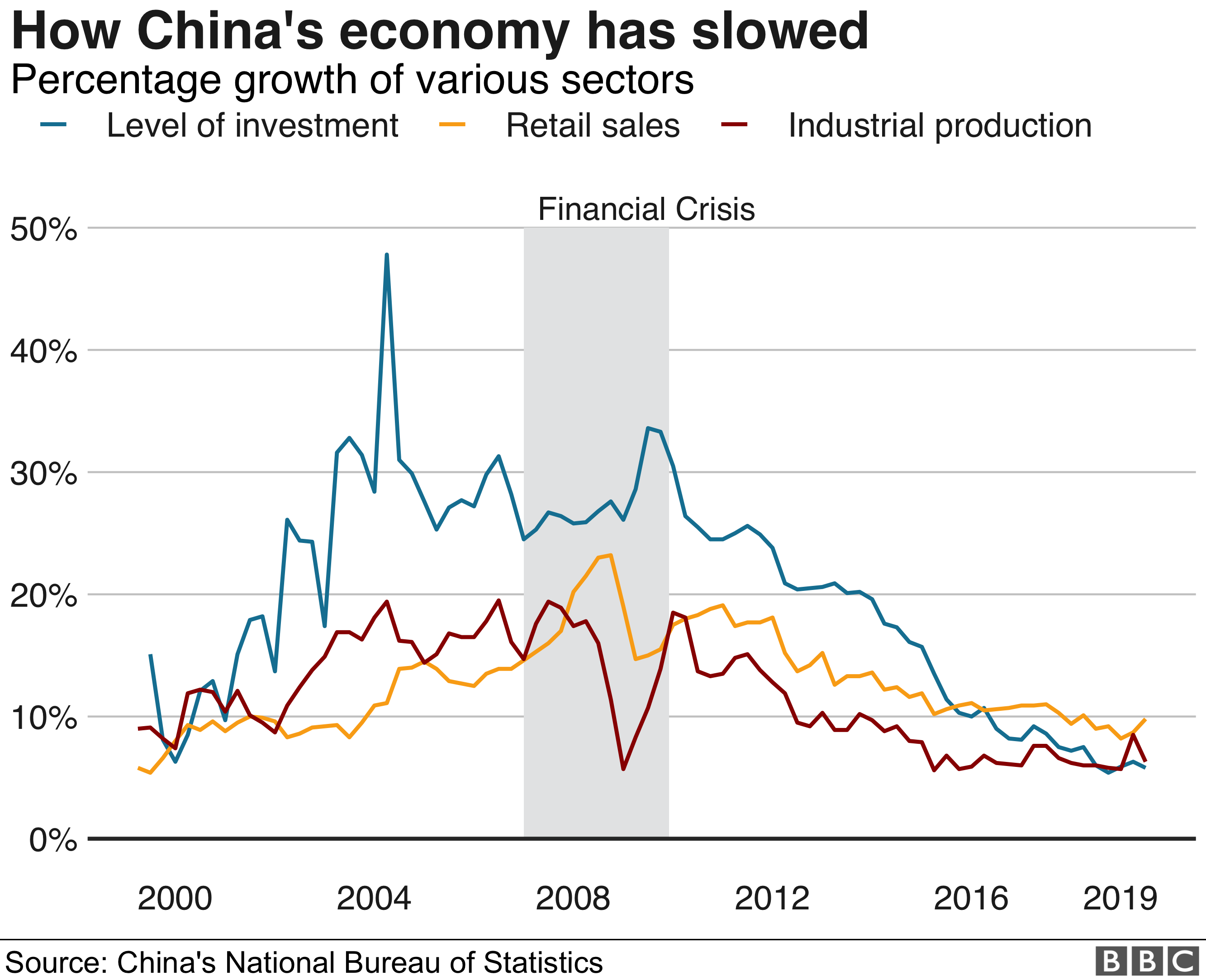 Global impact
Slowing growth in China has raised concerns about the potential knock-on effect on the global economy.
Earlier this year Beijing announced plans to boost spending and cut billions of dollars in taxes in an effort to support the economy.
It has also moved to provide a liquidity boost by reducing the amount of cash banks must hold in reserve.
Edward Moya, senior market analyst at Oanda, said the latest economic data "shows the slowdown remains intact and markets should expect further stimulus" from China's central bank later this year.
The US-led trade war is another factor weighing on growth.
"The trade war is having a huge impact on the Chinese economy, and with no end sight as trade negotiations struggle for meaningful progress, we are probably not near the bottom for China's economy," he said.
US-China trade war in 300 words
While both sides agreed to resume trade talks at a recent G20 summit in Japan, they have already placed tariffs on billions of dollars worth of one another's goods, hurting businesses and casting a shadow over the world economy.