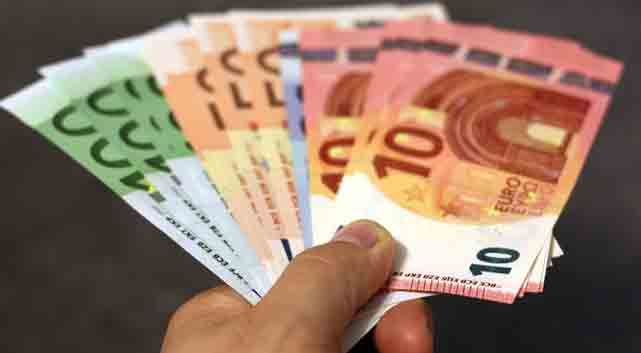 The Pound to Euro exchange rate ticked up to €1.0848 on Thursday morning in response to the release of UK's latest retail sales figures. Sales unexpectedly accelerated for a second consecutive month in July, bolstering hopes the UK economy could return to growth in the third quarter and boosting Sterling sentiment. Meanwhile, the Euro struggled to find support on Thursday as EUR investors remained skittish amidst fears that the Eurozone may be facing a prolonged slowdown.
The Pound to Euro exchange rate crept higher on Wednesday, climbing back above €1.08 as market reacted to Germany's latest GDP figures. These showed that economic growth contracted by 0.1% in the second quarter, leaving the Euro feeling fragile amidst fears that the European powerhouse could be headed towards a recession this year. Meanwhile Sterling sentiment was buoyed by the publication of the UK's CPI report, after domestic inflation unexpectedly accelerated in July.
Pound Sterling Euro (GBP/EUR) Exchange Rate Continues to Edge Away from Decade Lows
Ever since hitting a fresh decade low on Monday, the British Pound to Euro (GBP/EUR) exchange rate has been slowly edging higher. The pair has been benefitting largely from deepening concerns about the Eurozone's economic outlook, as German economic data keeps investors anxious that the Eurozone is far from out of the woods.
Still, GBP/EUR remains close to historic lows despite the Euro's weakness this week. GBP/EUR slumped from 1.0946 to 1.0737 last week, and while the pair has rebounded from Monday's decade low of 1.0643 the pair has still only recovered slightly to trend near the level of 1.0805 at the time of writing today.
No-deal Brexit fears continue to dominate the Pound outlook, so today's UK inflation data dousing Bank of England (BoE) easing speculation hasn't been enough to significantly boost demand for the British currency.
Pound (GBP) Exchange Rates Fail to Capitalise on Data amid No-Deal Brexit Fears
This week's UK data has been fairly optimistic so far, but despite this investors are hesitant to buy the Pound much due to lingering fears that Britain could be headed towards a no-deal Brexit.
Yesterday's UK job market report had little impact on the Pound outlook, as some aspects such as wages beat forecasts while an unexpected rise in unemployment led to speculation that the job market may have peaked.
Today's UK inflation data was a little more supportive of the Pound though.
Britain's July Consumer Price Index (CPI) inflation rate came in slightly higher than expected in all major prints, with the yearly inflation rate even coming in above the Bank of England's (BoE) 2.0% target rate.
Some analysts interpreted the data as supporting the belief that the bank was more likely to hike UK interest rates in the foreseeable future than cut them, dousing interest rate cut speculation.
Euro (EUR) Exchange Rates Under Pressure as German Economy Sees Quarterly Contraction
In recent weeks, the Euro has been kept buoyed by weakness in its rivals, the Pound and US Dollar (USD). This has prevented the shared currency from tumbling, even as Eurozone data worsens.
However, as this week's Eurozone data points towards continued weakness in the bloc's economy and outlook, the Euro is now struggling to keep holding its ground.
This week's German data has been generally underwhelming, with yesterday's German economic sentiment data from ZEW contracting much more than expected.
Today's key German growth rate report, while not as bad as expected year-on-year, still confirmed that Germany's economy contracted quarter-on-quarter.
As expected, Germany's Gross Domestic Product (GDP) growth rate projection came in at -0.1% QoQ.
The data wasn't enough to soothe market fears that Germany could be headed for recession. According to Katharina Utermohl from Allianz:
'It is particularly worrying that the weakness in industry is increasingly affecting domestic demand. After all, the German economy has so far been kept afloat primarily by private consumption and construction investment. Due to the very weak start to the third quarter, the recession risk is now at a high level.'
Today's overall Eurozone growth rate projection was unchanged, but the bloc's latest industrial production and employment change stats were worse than expected and put further pressure on the Euro.
GBP/EUR Exchange Rate Forecast: UK Retail Sales Could Influence Recession Fears
Most of this week's most notable data has been published already, but some UK data due tomorrow could be even more influential than the inflation rate report depending on the results.
Britain's July retail sales report is expected to show that retail activity slowed in July. As Britain's economy contracted in Q2, investors will be looking for signs of recovery in July economic activity data.
As a result, if the retail sales are even worse than forecast, speculation that Britain could be headed for recession in Q3 would worsen. This could lead to fresh losses for the Pound.
The Pound is already being weighed by no-deal Brexit fears, which are preventing it from advancing too far even as the Euro weakens.
The Eurozone's June trade balance report will be published on Friday, and the Euro could also be driven by shifts in demand for its rival, the US Dollar.